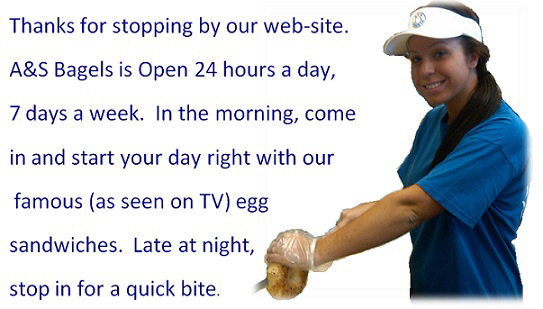 A&S Bagels, Inc. Site Map Archive

This site map was last update on December 14, 2006. It may or may not be up to date.
A&S Bagels, Inc. proudly distributes our frozen bagel dough to bagel stores. A&S Bagels is located in Long Island, NY. Long Island is East of Manhattan. Bagel Dough is available for delivery to Manhattan, NYC, Long Island and throughout the country.
Picture Credits
Some of the pictures appearing on this web-site were taken by Rosanna Talarico, Gregory Scolieri, and some by Patrick McNamara. Some pictures were taken by the staff of A&S Bagels.
All the pictures, images and content of this web-site are copyrighted and/or owned by A&S Bagels, Inc and/or A&S Bagels has permission for use. No use, or reproduction of any pictures, images or content appearing on this web-site is permitted without the express written permission of A&S Bagels, Inc.

Legal Notice: By viewing, visiting, using, and/or accessing this web-page and/or web-site, you are bound to certain terms and conditions. You can read said terms and conditions by clicking here. The materials on this web-site are protected by copyright. All rights reserved. ©1985-2013.